Description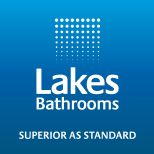 The Sculpted Double Panel Bath Screen from Alpine Building Products is a top-quality bath screen that will transform a daggy bathroom into a modern, attractive space.
The Sculpted Double Panel Bath Screen measures 117.5-120cm in width and 140cm high.
Forgo the unattractive and dowdy shower curtain and upgrade to the uber-stylish and highly functional Sculpted Double Panel Bath Screen. With an elegant curved design and double glass panels made from 6mm thickened safety glass that is coated on both sides with AllClear coating, this bath screen is both attractive and a godsend.  It will eliminate water splashing about and due to the AllClear coating, it will practically clean itself.
The Sculpted Double Panel Bath Screen is designed to offer easy installation over standard insert baths. It is fully reversible and adjustable in width.
Manufactured from Lakes Bathrooms, this product boasts of quality and is backed by an impressive lifetime warranty.
Purchase this great product from your local Alpine Building Products retailer.