Description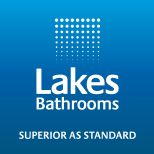 The Sculpted Bath Screen in Alpine Building Products' bath screen collection is a very elegant and highly functional bath screen that is designed to easily fit any standard insert bath. It boasts an amazing lifetime warranty and will make light work of your bath screen cleaning duties.
The Sculpted Bath Screen is adjustable in width. It measures 86-88.5cm in width and 140cm high.
Experience the best in quality with the Sculpted Bath Screen, from bathroom manufactures, Lakes Bathrooms. Featuring toughened 6mm minimum glass, this curved shower screen is set in a minimalist silver frame that has a stylish polished finish. It is coated on both sites with state-of-the-art AllClear coating – this effectively cleans your shower for you.
The Sculpted Bath Screen is designed to offer easy installation and is both adjustable and fully reversible.
It is covered by an impressive lifetime warranty for replacement parts or the complete product.
Purchase the Sculpted Bath Screen from your local Alpine Building Products retailer.