Cannes Black
Frameless & semi-frameless
8mm glass
Matte Black Finish
2m high
Fully reversible
Wet room or tray
30mm Extension profile included
Lifetime guarantee
AllClear as standard



Description
Let the beauty of your bathroom décor shine through with the pared-down luxury of our simple Cannes screen.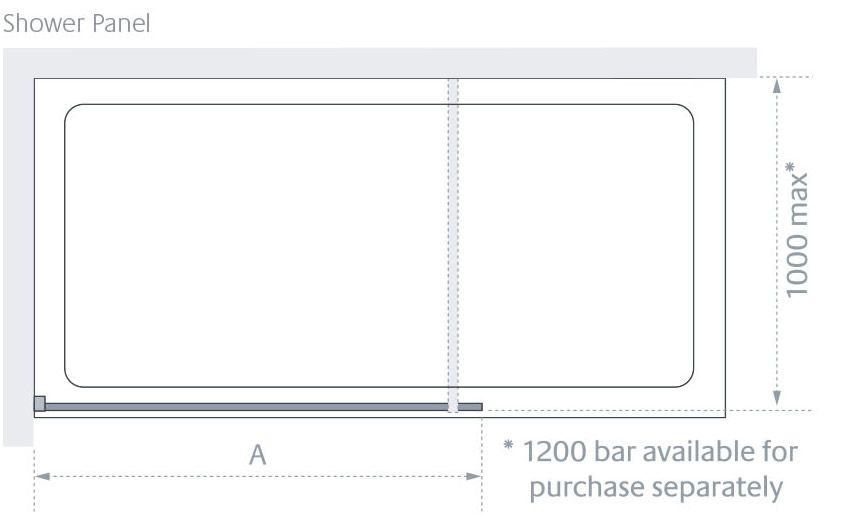 PureVue HD
Brilliantly new. Clearly you
The revolutionary introduction of PureVueHD glass at no extra cost, on every single product in our Cannes  Collections, brings a clear edge to your bathroom.
PureVueHD is a high quality, optically superior 'low-iron' glass.
In standard glass, its iron-oxide content shows itself as a green tinge that's most apparent when you view the edge of the glass, but which also affects and tints everything seen through it.
PureVueHD, by comparison, is dramatically clearer. The reduced iron content reduces the greenish hue to zero levels. Practically tint free, it enables the natural beauty of anything seen through the glass to shine through.
For the first time, it brings to your bathroom the natural colours, sharpness and enhanced clarity that high definition TV brings to your living room.
Clearly superior
Very high transmission levels enable as much light as possible to pass through, making everything lighter and brighter.
From your carefully chosen bathroom tiling and décor to fittings and accessories, you will see a purer vision of everything but the glass, which almost disappears. And the thicker the glass, the stronger the greening effect of iron-oxide becomes, so the greater the difference PureVueHD can make.
Combined with our advanced AllClear coating it gives every Lakes enclosure, walk-in and bath screen a very clear edge*.
PureVueHD glass
Standard float glass
Superior as standard
You might expect such a dramatic advance to cost more and typically low-iron glass can cost up to 50% more than standard glass.
However, by being true to our promise to offer every customer of Lakes 'superior as standard', and by integrating PureVueHD across the range in our own high-efficiency production facility, we are able to bring you additional clarity without any additional cost.
Exceptionally clear and exceptional value – see your bathroom in its true colours with PureVueHD, exclusively from Lakes Bathrooms.
AllClear Advanced Technology
We believe your shower time should be lavished on you, not be spent cleaning and scrubbing the enclosure. It's why our AllClear stay-clean coating is standard on both sides of the glass on every product in our Classic and Coastline Collections.
What does it do?
AllClear's advanced technology effectively cleans your shower for you, repelling water, lime scale and soap scum so a quick wipe is all that's needed to keep that 'as new' sparkle, and it's kinder to the environment too.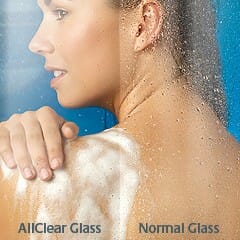 In a side-by-side test you can clearly see the difference between normal glass (right) and glass with our AllClear coating.
Free to enjoy
Some manufacturers charge in excess of £100 to apply similar coatings as an optional extra. Our Classic and Coastline Collections give you the extra benefits of AllClear protection on both sides of the glass at no extra cost. AllClear is guaranteed to outperform untreated glass for 3 years so you're free to enjoy every refreshing minute of showering.
How does it work?
Look into a microscope and you would see that standard glass actually has a pitted surface to which water, lime scale and soap scum can cling, building up with every shower and requiring regular scrubbing to keep your enclosure clean and hygienic. Inspired by nature, the AllClear coating forms an invisible, microscopically smooth shield to prevent this build up of grime. AllClear's hydrophobic properties cause water to run off freely, washing away residue and dirt as it goes. It's an amazing effect which has to be seen to be believed – one reason why we've produced a video demonstration so you can see the AllClear magic for yourself.
Good for you, better for the environment
AllClear is truly eco–friendly. Water sheets off the coated glass, washing away soap scum and grime as it goes, so it's more hygienic and with less bacteria, there's less need for harsh chemical cleaners – which is kind to the environment and to your pocket.
Clearly better
AllClear not only means superior performance, it's a superior product in its own right, proven to outperform other coatings on the market. Glass coated with AllClear also has greatly enhanced the impact and abrasion resistance and 20% more brilliance.
Installation Instructions
Lifetime Warranty

Superior as standard
We use only the finest materials, and it's why you'll find a lifetime guarantee on shower doors, enclosures and bath screens for domestic application, protecting you against any manufacturing or material defects. If it's our fault we won't quibble and we'll supply any replacement parts totally free of charge. When we say 'superior as standard', it's a promise that really holds water. Take our AllClear® stay-clean coating, for example. Some other manufacturers offer similar coatings as an expensive extra. We apply it as standard, so you can spend more time enjoying your shower and less time cleaning it.